Worker Seriously Injured in Port Everglades Construction Accident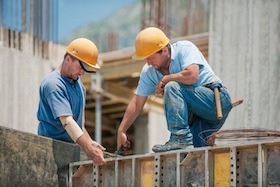 A recent construction accident at Port Everglades demonstrates once again why construction jobs are in the top 12 of the most dangerous occupations in the U.S. (TIME USA, LLC.)
The accident occurred as a 39-year old male was fixing a water pipe in a trench at Port Everglades. The worker was using a powerful K12 circular saw to cut the pipe when he either lost control of the saw or it kicked back, causing a foot-long laceration across his abdomen and chest.
When emergency rescuers arrived, the victim was still in the trench and in serious condition but conscious and able to speak. He is expected to recover from his injuries.
Construction Jobs are Hazardous Occupations
Since being signed into law in 1970, the Occupational Safety and Health Administration (OSHA) agency works to assure safe and healthful working conditions with training, education and outreach and by enforcing workplace standards.
Before OSHA, it's estimated that 14,000 workers died on the job each year. Since then, many workplace improvements have been made and the number is far less - an average of 12 deaths per day compared with the pre-OSHA rate of 38 - but there are still too many preventable deaths. In 2014 there were 874 construction deaths. (Statistics from U.S. Department of Labor)
Here are a few employer responsibilities per the OSHA Act:
Comply with OSHA standards and regulations.
Provide a workplace that is free from serious recognized hazards.
Make sure that workers have safe tools and equipment that are properly maintained.
Provide safety training.
Warn employees of hazards with signs or other visible signals.
Have operating procedures including safety and health requirements that are communicated to workers.
You can find the complete list at U.S. Department of Labor - Employer Responsibilities.
Construction Injuries can be Severe and Life-Changing
Because construction jobs usually involve power tools and heavy machinery as well as working in trenches or on high scaffolding, these injuries can cause serious medical problems including:
Amputations
Fractures
Burns
Lacerations
Vision or hearing loss
Spinal cord damage with partial or total paralysis
PTSD from an accident
Exposure to toxic chemicals
Traumatic brain injuries
A construction injury or death may have been caused by negligence. An injured worker may be able to file a personal injury claim if, generally, another person or entity was negligent and that negligence caused the injury. In the event of death, the worker's family may consider a wrongful death claim.
We Can Help With Slip and Fall Injuries
If you or a family member has been injured in a construction accident or any other type of premises accident or personal injury, please contact the Law Offices of Diana Santa Maria, P.A. immediately. Our experienced attorneys have the right expertise to fight for the compensation you deserve. Please call us for a free consultation. Attorney Diana Santa Maria, personal injury attorney in Fort Lauderdale, will fight to secure justice for you and your family. You can reach us at (954) 434-1077 or contact us via the website.