Sporting Event Injuries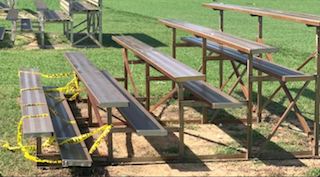 While most injuries at sporting events occur as a direct result of gameplay, audiences can also experience serious injuries-- particularly as a result of sports bleacher-related accidents. According to U.S.Consumer Product Safety Commission's (CPSC) injury records, more than 10,000 sports bleacher related accidents occur each year. Many of these accidents lead to serious injuries, with some even resulting in death.
If you or someone you love has been injured due to a bleacher accident, you may be eligible for financial compensation. Recently, the Law Offices of Diana Santa Maria, P.A. obtained a settlement in excess of $500,000.00 for a single mother who required cervical spinal surgery because of a bleacher bench collapse during her son's youth football game. While every case is different, the more you know about bleacher injuries, the more you'll know how to protect your legal rights once an injury has occurred.
On this page, we'll review the basics of sports bleacher injuries, the rights of the injured, and how an experienced attorney can help you or your loved ones receive the maximum potential compensation for your injuries.
What Should You Do If You've Been Injured in a Bleacher-related Accident?
TB-photo of post accident bleacherIf you or a loved one has been hurt in a bleacher accident, call 911 if your injuries appear serious, particularly if you've experienced a head injury. Get names and contact information of any witnesses. If you are able, you will also want to document the scene of the accident, including taking photos of the bleacher area in which you were injured, as well as photographing your own injuries. Then, call an experienced attorney who can help guide you through the process of achieving potential compensation for your injuries.
Avoid agreeing to any settlements from your (or the liable party's) insurance company, or any settlements offered to you by doctors or other healthcare providers who could be representing an insurance company. In addition, you'll want to avoid admitting fault for the accident, as this could be held against you in settlement negotiations or a jury trial.
What are the Most Common Bleacher-Related Accidents and Injuries?
The most common types of bleacher accidents include:
Flat surface slip and falls this commonly occurs when surfaces are not properly coated, or when they are covered with rain, or another foreign substance.
Tripping over steps: similar to flat surface falls, people may trip over steps due to rain, misplaced objects, or faulty step construction.
Bleacher tipping or collapse: large crowds or faulty bleacher construction can lead to tipping or even full collapse of bleachers, which can lead to slips, falls, or even minor stampedes as people crash into each other.
Internal falls: babies and toddlers can fall in the spaces between bleacher steps and surfaces, leading to significant injuries or even death.
Side falls: If a set of bleachers does not have adequate guardrails, people may fall over the sides, also potentially leading to serious injuries.
Bleacher accidents can commonly lead to injuries including:
Traumatic brain injuries: Traumatic brain injuries (TBIs) lead to memory problems, headaches, and cognition/learning issues.
Broken bones: Typically take weeks or months to heal and can result in significant disabilities, including the inability to work.
Spinal injuries: Often lead to partial or full paralysis, and long-term pain issues.
Cuts, scrapes, and soft tissue injuries: Could lead to infection and even organ damage, depending on the severity of the injury sustained.
Who is Liable for Sports Bleacher Injuries?
That depends. If the bleachers are located at and owned by a school, such as high school or university, the liability may lie with them. If the bleaches are located at a private facility, such as a hockey rink or sports club, the liability may lie with the owner of the property. If the property is leased out to another party, the organization leasing the property may be liable. If the bleachers are located on public property, such as a park, the city or county government could become a liable party.
Sometimes, a property management company could be held liable if their lack of maintenance can be directly linked to the accident. If the bleachers had an inherent mechanical defect, the manufacturer, distributor, or seller of the bleachers could also be held liable.
Due to these factors, bleacher liability cases can be especially complex, as they often involve multiple liable parties. Plus, many lower-quality insurance policies may have exclusions for bleacher accidents, particularly bleacher collapses.
What are the Safety Standards for Sports Bleachers?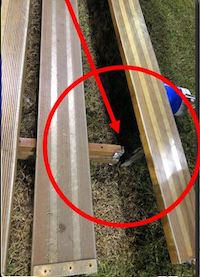 Safety standards for bleachers vary, but, at a minimum, need to comply with local and state building and fire codes and regulations. American National Standard Institute (ANSI), a non-profit group that issues voluntary performance standards for a variety of products, suggests that bleachers should be compliant with the following construction factors:
Openings: Bleacher openings must be less than 4-8 inches wide, to prevent slips and falls.
ADA Compliance: Bleachers should be ADA (Americans with Disabilities Act) compliant, with easy access to isles, non skid surfaces, and sufficient guardrails
Guardrails: Guardrails generally must be at least 3.5 feet high.
Foundations: Bleacher foundations should be strong enough to resist swaying or collapse during the movement of large crowds.
Surfaces: Unfinished surfaces, sharp points, or protruding bolts must be addressed and repaired immediately.
Assembly: Folding or telescopic bleachers must be fully extended and locked to avoid collapse.
In general, bleachers should be inspected by a facility on a quarterly basis, and by a professional every 2 years.
Any deviation from these standards could lead to significant liability on behalf of the responsible parties. While the bleacher safety standards mentioned above apply to all types of bleachers, also understand there are four general types of bleachers. Each type has different risks for sports audiences and the general public. Bleacher types and risks include:
Temporary bleachers: Temporary bleachers are often kept in storage and used for sporting events like golf tournaments or state fairs. Risks include missing parts or unnoticed damage sustained during storage or transportation.
Telescopic/folding bleachers: Utilized in indoor gymnasiums, telescopic bleachers may lead to accidents if bleacher components are not fully locked in.
Movable/portable bleachers: Used outside and moved for seasonal sports, these bleachers can be especially risky due to both improper assembly and outdoor maintenance issues.
Permanent/stationary bleachers: Permanent bleachers are outdoor, larger bleachers often used for high school football, soccer, and track. Risks include weather damage, wet or slippery surfaces, and lack of maintenance.
If You've Suffered from a Bleacher Accident, Contact an Experienced Attorney Today Complimentary consultation with no risk to you Call (954) 434-1077 today or Toll Free (800) 668-2156
If you or someone you love has been injured in a sports bleacher accident, contact
the Law offices of Diana Santa Maria for a free consultation today. We can help inform you about your rights, and, if you have a viable case, we will fight with insurance companies and other liable parties to get you the maximum compensation. If you don't get paid, we don't get paid. Call us today to learn more.