Attorneys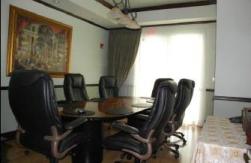 The personal injury attorneys who work with the LawOffices of Diana Santa Maria, P.A. bring broad and diverse backgrounds and experiences to their representation of clients. The firm assembles a legal team for each case based on attorneys' experience and knowledge in specialized areas of law and medicine together with a client's need.
The attorneys who work with the firm come from different parts of the country or world and have developed interests and skills of a varied nature. They are selected based on their knowledge and expertise in certain areas.
The Managing and Founding Partner of the firm, Diana Santa Maria, is a frequent author and lecturer to other lawyers within the field of Personal Injury and Medical Malpractice. She has been recognized by her peers and in her profession as a skilled advocate, litigator and trial lawyer. Recognized in the well known "Best Lawyers in America" legal publication, she has been awarded the ABOTA Trial Lawyer of the Year from its Ft. Lauderdale Chapter, the "Compassionate Gladiatrix" award from the Florida Justice Association, she is listed in the National Trial Lawyers Top 100 in the State of Florida, among other accolades and honors.
Diana has served as an adjunct Professor of Law at Nova University School of Law and on various Boards in the legal community to include, the Board of Directors for the Broward County Bar, Broward Justice Assn. (f/k/a the Broward County Trial Lawyers Assn.), the Florida Justice Association ( f/k/a The Academy of Florida Trial Lawyers, and ABOTA ( American Board of Trial Advocates) Fort Lauderdale Chapter, of which she is ​currently a past President. In 2004 she was appointed by the Governor and served four years as a Constitutional Officer of Florida as Commissioner on the Florida Supreme Court Judicial Nominating Commission.
Founding/Managing Attorney

Davie, FL
Phone: (954) 434-1077
Toll Free: (800) 668-2156
Fax: (954) 434-4462