South Florida Legal Guide Names Diana Santa Maria as Top Lawyer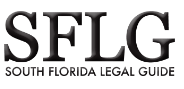 The Law Offices of Diana Santa Maria, P.A. is pleased to announce that Diana Santa Maria has been recognized as a Top Lawyer by the 2017 South Florida Legal Guide.
This honor has particular significance because Top Lawyer selections are based entirely on peer nominations. Each year, The South Florida Legal Guide editorial department reviews nominations along with other criteria such as the attorney's standing with the Florida Bar and individual accomplishments.
Diana Santa Maria has Tackled Personal Injury Cases Since 1985
Attorney Santa Maria received her undergraduate and law degrees from the University of Miami. She was admitted to the Florida Bar in 1985 and has devoted her practice to representing those injured because of the negligence of others. As Managing and Founding Partner of our firm, Diana Santa Maria vigorously represents individuals from all walks of life. Our firm has obtained multi-million dollar settlements and verdicts for all types of personal injuries including car accidents, products liability, construction accidents, medical malpractice and criminal assaults.
Attorney Santa Maria's law profession is also her avocation. She is an active member of the Florida Bar and its Trial Bar and has served in leadership positions in many professional organizations. Attorney Santa Maria is a lecturer and published author on topics ranging from mediation and negotiating to law practice management. She has been repeatedly recognized as a Florida Super Lawyer and our firm is listed with the Best Lawyers in America.
Our Firm's Commitment to Pursue Justice for Our Clients
We strive to obtain compensation for our clients in Personal Injury and Wrongful Death claims. We treat each case as unique and represent each client in a manner that specifically addresses their needs as well as those of their families.
The Law Offices of Diana Santa Maria, P.A. has obtained successful verdicts and settlements against insurance companies, hotels and restaurants, retail establishments, corporations and construction companies.
The South Florida Legal Guide
The South Florida Legal Guide publishes three editions each year showcasing Top Lawyers, Top Law Firms and Top CPAs in our state. Publications feature expertise columns and professional profiles as well as relevant editorial content. One edition is devoted to financial information and profiles.
Our Firm Has the Right Experience to Help Those Harmed by a Personal Injury
If you or a family member has been injured in a car accident or by any type of personal injury, please contact the Law Offices of Diana Santa Maria, P.A. immediately. Our experienced attorneys will fight for the compensation you deserve. Please call us for a free consultation. Attorney Diana Santa Maria, personal injury attorney in Fort Lauderdale, will fight to secure justice for you and your family. You can reach us at (954) 434-1077 or contact us via the website.