Prepare Now for Any Type of Emergency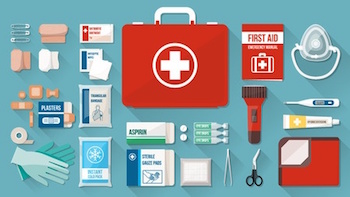 Recent news reports are filled with the reported terrorist events in Minnesota, New Jersey and New York. Stories of these man-made tragedies share the news with natural disasters, including direct hits on our state by hurricanes Colin, Hermine and Julia.
If a natural disaster or other type of emergency hit your family, would you be prepared?
The Federal Emergency Management Agency (FEMA) has designated September as National Preparedness Month. This event was created to build awareness of the need to prepare now for an emergency in our homes and workplaces.
FEMA chose September as a reminder of the events of September 11, 2001, which caught most of us unprepared for a disaster of that magnitude. September is also the peak of the U.S. hurricane season.
Emergency Preparedness Action Plan
Now is a great time to prepare for an emergency and build an action plan to share with your family. Here are some tips from FEMA to help you. You'll find details, guidance and checklists on their Take Action.
Research and download apps, alerts and warnings about weather conditions and other emergencies.
Collect supplies that you'll need if normal supplies along with electricity and water are cut off. Food, first aid kit, water, cash, medications, pet supplies and fuel for cooking are just a few. Does anyone in your home have special needs or a disability?
Protect vital documents. Make a list of any essential financial, medical and legal documents and place them in a safe, secure spot. Keep copies handy.
Test your communication plans. Partner with family members and neighbors to create a communication web. Select a local meeting place in the event of an emergency and notify an out-of-state contact of your plans.
Review your insurance policies. Make sure that you are adequately protected in the event of a disaster or emergency.
Itemize your assets. Would you be able to create an accurate list of your possessions after an emergency? Make the list now and take photos of most items in the event you must make a claim.
Create a neighborhood plan. Start a conversation now before a disaster strikes. You and your neighbors can support each other to be ready for an emergency.
Practice. You should have an exit plan for your family to escape your house if there is a fire or other emergency. Identify the safest place in your home in the event of a natural disaster like a tornado or hurricane. Communicate this with your family and hold a practice emergency drill at least once each year.
Let Us Know if We Can Help You With any Personal Injury
If you or a family member has been injured in any type of personal injury, please contact the Law Offices of Diana Santa Maria, P.A. immediately. Our experienced attorneys have the right expertise to fight for the compensation you deserve. Please call us for a free consultation. Attorney Diana Santa Maria, personal injury attorney in Fort Lauderdale, will fight to secure justice for you and your family. You can reach us at (954) 434-1077 or contact us via the website.