Worker Injured in Construction Scaffolding Fall in Fort Lauderdale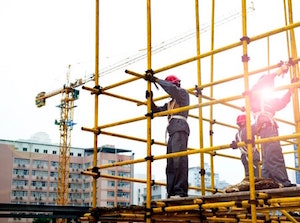 Recently, a worker fell about 30 feet from scaffolding while working outside a building in Fort Lauderdale. The worker reportedly landed on his feet in a sandy area and was taken to the hospital complaining about back pain.
This construction accident is the latest in a string of accidents involving scaffolding that have occurred in our area this year. A worker had to be rescued in Key Biscayne while dangling from his harness after a scaffold collapsed. Another worker was taken to the hospital in critical condition after falling off the 7th floor scaffolding at a Miami Beach condominium. And tragically one worker died after falling off scaffolding at a South Beach condo.
Working on Scaffolding is Hazardous
65% of construction workers work on scaffolds. This work comes with many risks and each year there are 4,500 injuries and more than 60 deaths in the U.S. (OSHA)
Although scaffolding is more stable than ladders and allows workers to reach higher levels, it comes with risks that continue to cause accidents. Scaffolding accidents are caused by
Improper scaffold construction
Regular inspections performed by a specially trained worker in the construction industry
Falling objects such as tools or building material
Insecure or missing bracing
Weak or broken planking
Inadequate safety procedures
Lack of training
Insufficient protective equipment
Injuries from scaffolding accidents range from cuts and bruises to broken bones, concussions, traumatic brain injuries, head and spine injuries and even death.
Preventing Scaffolding Accidents
Protecting workers from accidents relating to scaffolding will prevent many injuries and deaths. OSHA has very specific requirements for using scaffolding to protect workers. Here is a partial list:
Scaffold must be sound, rigid and sufficient to carry its own weight plus four times the maximum intended load without settling or displacement.
Scaffold must be erected on solid footing.
Scaffold must be equipped with guardrails, midrails and toeboards.
Scaffold platforms must be tightly planked with scaffold plank grade material or equivalent.
A "competent person" must inspect the scaffolding and, at designated intervals, reinspect it.
Employees must be instructed about the hazards of using diagonal braces as fall protection.
Once scaffolding is erected, it must be inspected not only daily but also before each shift to make sure connections are tight and that the rigging is undamaged.
You can read the complete list in the OSHA Construction Pocket Guide.
We Have Extensive Experience in Premises Liability Cases Including Construction Accidents
If you or a family member has been injured in any type of premises liability accident or personal injury, please contact the Law Offices of Diana Santa Maria, P.A. immediately. Our experienced attorneys will fight for the compensation you deserve. Please call us for a free consultation. Attorney Diana Santa Maria, personal injury attorney in Fort Lauderdale, will fight to secure justice for you and your family. You can reach us at (954) 434-1077 or contact us via the website.