Traumatic Brain Injury is Often a Tragic Consequence of a Vehicle Accident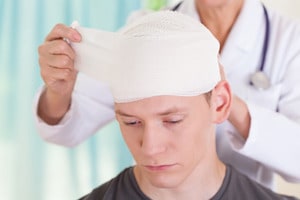 Auto accidents are the cause of more than half of all traumatic brain injuries in the U.S. A traumatic brain injury, or TBI, may result when the head is subjected to a blow or jolt from penetrating or blunt trauma. The skull itself may be fractured, but not always.
Because of the force of the impact, the brain crashes back and forth inside the skull. This trauma can cause bleeding, bruising and tearing of the nerve fibers.
After a car or motorcycle accident, or any fall, sports injury, or assault that involves trauma to the head, the victim may experience:
Cognitive difficulties such as attention, concentration, memory, confusion and impulsiveness.
Problems with speech and language including difficulty understanding, speaking and being understood, slurred speech, problems reading or writing.
Sensory issues like difficulty with interpretation of temperature and touch, hearing problems and loss of smell or taste.
Vision problems like partial or total loss of vision, blurred vision, problems judging distance and light intolerance.
Seizures.
Physical changes including paralysis, pain, issues with bowel and bladder control, sleep and appetite changes.
Social-emotional difficulties such as emotional ability, irritability, depression, aggression and lack of awareness.
It is important to note that signs and symptoms of a TBI may not appear right away. The victim may appear fine, but their condition can decline rapidly due to delayed trauma in the brain.
Automotive Defects May Result in a Traumatic Brain Injury
A victim may be injured in a car crash because of an automotive defect. One example is sudden acceleration, which has been featured in news stories. In this type of accident, the vehicle accelerates suddenly because of a manufacturing defect. In other words, a pre-existing defect existed in the vehicle which may have been the cause of the accident.
An automotive defect or a defective part may include:
Defective seatbelts
Defective airbags
Product recalls
Child seat safety features
Improper window glazing
Windshields with laminated vs. tempered glass
Faulty door latches
Improperly-designed roofs that can crush in a rollover accident
What to Do After an Accident - Traumatic Brain Injury
Any accident victim who has sustained injuries should go to an emergency room right away. Many injuries are not immediately observable, especially those that involve brain trauma without an obvious wound.
Ask medical personnel specifically about a brain injury. Tests and diagnostic procedures are in order if a traumatic brain injury is suspected. The sooner this type of injury is detected, the sooner the patient can receive vitally important treatments and so reduce the risk of additional problems.
We Can Help if You Have Been Injured in a Car Accident
If you or a family member has been harmed by a truck accident, bus accident, car accident, slip and fall or any other type of personal injury, please contact the Law Offices of Diana Santa Maria, P.A. immediately. Our experienced attorneys will fight for the compensation you deserve. Please call us for a free consultation. Attorney Diana Santa Maria, personal injury attorney in Fort Lauderdale, will fight to secure justice for you and your family. You can reach us at (954) 434-1077 or contact us via the website.