Tragic Georgia Truck Crash Shows Vulnerability of Passenger Car Occupants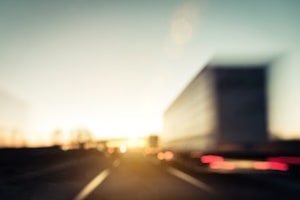 A recent truck accident on I95 in Brunswick, Georgia illustrated just how devastating the results of a truck vs. car accident can be.
A southbound Federal Express truck pulling tandem trailers veered across the highway divider and into northbound traffic, slamming into the side of a northbound car and killing its driver. The truck continued across all 4 northbound lanes, stopping at last with the second trailer overturned.
Although the crash is still being investigated, it seems clear that the truck driver lost control of his vehicle.
Truck vs. Car Accidents: Catastrophic Results for the Car's Driver and Passengers
Generally, a large tractor-trailer or 18-wheeler (plus cargo) weighs about 80,000 pounds. If a truck is pulling a second trailer, or in tandem, the weight will be significantly more.
Compare this with the average weight of a car at 4,000 pounds - only 5% of a truck's weight. It's easy to see why most deaths in large truck accidents are the vulnerable occupants of the smaller, lighter passenger vehicles.
Determining Fault in a Truck vs. Car Accident
Until the Brunswick accident investigation is complete, it is unknown how and why the driver lost control of the truck. There are many potential reasons including:
Driver error - driving while distracted by cellphone or texting, driving under the influence of alcohol or drugs, fatigue caused by exceeding the hours of service rules, speeding, unfamiliarity with the road, inadequate training.

Equipment failure - brake or tire failure due to poor maintenance or manufacturing defect.

Some other reason - for example, if another driver cut off the truck and the driver lost control while excessively swerving or braking.
To get at the cause of the accident, investigators will interview the driver, his passenger and other witnesses. Electronic event data recorders that track and save information about the truck and its operation will be reviewed to determine if the driver was speeding and to assess driving patterns and time on the road. Other devices that can provide information on the crash include dash cams, on-board computers and GPS systems.
You can read more about using dash cams in truck accident cases in our earlier blog.
It is complicated to determine fault in a truck and car accident. There are 2 drivers involved but also the truck's owner and manufacturer and various parts makers. It's in the best interests of victims of truck accidents to consult an attorney with extensive truck accident experience for the best outcome.
Let Us Know if You Have Been in a Truck Accident
If you or a family member has been injured in a truck accident or any type of personal injury, please contact the Law Offices of Diana Santa Maria, P.A. immediately. Our experienced attorneys will fight for the compensation you deserve. Please call us for a free consultation. Attorney Diana Santa Maria, personal injury attorney in Fort Lauderdale, will fight to secure justice for you and your family. You can reach us at (954) 434-1077 or contact us via the website.