Tips for Holiday Air Travel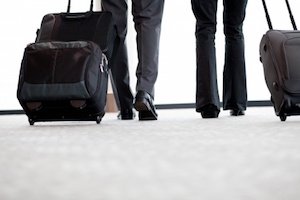 Thanks to lower fuel prices and a more robust economy, U.S. airports are bracing for what experts say may be a record-setting holiday travel season.
Seasoned travelers know to plan for lots of extra time for check-in and to go through security screening. But often the biggest holdups are caused by those travelers who don't fly frequently, perhaps only once a year for the holidays.
Savvy travelers pack carefully, follow TSA rules for both carry-on and checked luggage and get to the airport with plenty of time to spare. But sometimes other problems occur that are unexpected and out of anyone's control like bad winter weather or a technology malfunction such as the computer failures experienced this year by a few major air carriers.
Tactics to Help Make Holiday Air Travel Manageable
Here are a few simple tips to get you to your destination with a minimum of stress:
Track your flight through the airline's app or check on the airport via its Twitter feed.
Enroll in TSA PreCheck for a quicker and easier security screen. To be eligible, you'll agree to a background check and to be fingerprinted. The $85 fee will cover you for 5 years and is reasonable even if you fly only once or twice a year. There is a 2-3 week processing time so act now to be ready for holiday travel.
Choose travel days that are less busy. Thanksgiving and Christmas Day have lighter traffic. Mornings are usually busiest at most U.S. airports.
Check into your flight online whenever possible.
Review the TSA's list of prohibited carry-on items and policy on carrying liquids onto the flight. And remember that snow globes are also subject to the 3.4 ounce liquid restriction!
Don't carry-on wrapped gifts as TSA agents may want to inspect them. Consider shipping gifts ahead to avoid having them take up valuable luggage space.
If you go with a low-fare carrier you may risk being stranded for a long period if your flight is cancelled. These carriers have fewer flights or partner networks to accommodate you on a later flight.
Avoid short layovers. You may be able to reach the gate but your checked luggage may not make it. Opt for non-stop flights whenever possible.
The bottom line: Prepare, arrive Promptly at the airport and be Patient to get through your holiday travel with the fewest hassles!
We can Help with All Types of Personal Injury Cases
If you or a family member has been injured in a car accident or any other type of premises accident orpersonal injury, please contact the Law Offices of Diana Santa Maria, P.A. immediately. Our experienced attorneys have the right expertise to fight for the compensation you deserve. Please call us for a free consultation. Attorney Diana Santa Maria, personal injury attorney in Fort Lauderdale, will fight to secure justice for you and your family. You can reach us at (954) 434-1077 or contact us via the website.