The Long-Term Impact of Traumatic Brain Injury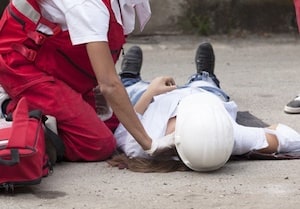 Traumatic brain injuries (TBIs) are more common than you might think. In fact, every day 138 Americans die from a TBI (statistics from the Centers for Disease Control and Prevention). This devastating injury is one of the leading causes of death and disability.
Causes of TBI: Not Just the Playing Fields
Recent headlines report tragic stories of football players and other contact sports athletes who suffer brain injuries from repeated trauma to the brain. However, the vast majority of debilitating and fatal TBIs in the U.S. happen in non-sports situations:
Falls including slip and falls account for 40% of all TBIs, including 81% for individuals over age 64.
Being hit by an object accidentally racks up another 15% of TBIs. Often these injuries occur at work such as at a construction site.
Car accidents and other motor vehicle accidents account for 14% of TBIs and, significantly, are the cause of 26% of all TBI-related fatalities.
Assaults make up 10% of annual TBIs with a whopping 75% of these injuries occurring in those between ages 15 and 44.
Effects of Traumatic Brain Injury is Often Lifelong
The numbers don't really tell the story because victims of TBIs do not heal easily or quickly. The profound impact of a TBI can result in persistent, often lifelong problems. Survivors often need extensive rehabilitation and frequently suffer from disorders including:
Impaired thinking or memory. Even mild cases of TBI result in diminished cognitive performance in both the short and long-term.
Reduced movement such as limited movement of arms or legs and even paralysis.
Affected senses. TBIs can cause lessened hearing or vision.
Emotional functioning including depression and personality disorders.
TBIs can also cause epilepsy and increase the risk of conditions such as Parkinson's disease, Alzheimer's disease and other brain disorders.
Even if a survivor recovers fully from the physical trauma of a TBI, there may never be a return to full social independence because of neurobehavioral disability. Many victims must often depend on family and community support for the rest of their lives.
Let Us Know if You Have Experienced a Traumatic Brain Injury
If you or a family member has suffered a traumatic brain injury or has been injured in a truck accident, a car accident or slip and fall or any other type of personal injury, please contact the Law Offices of Diana Santa Maria, P.A. immediately. Our experienced attorneys will fight for the compensation you deserve. Please call us for a free consultation. Attorney Diana Santa Maria, personal injury attorney in Fort Lauderdale, will fight to secure justice for you and your family. You can reach us at (954) 434-1077 or contact us via the website.