The Connection Between Driver Fatigue and Truck Accidents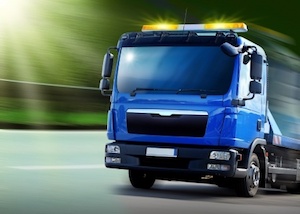 In the past decade there has been a 20% increase in the number of commercial truck accidents (data from the Federal Motor Carrier Safety Administration FMCSA). Is there a pattern to the causes of these accidents?
The driver errors of fatigue and driving under pressure from the trucking company are two of the most common causes of truck accidents. Driving while fatigued or falling asleep is risky behavior behind the wheel of large tractor-trailers. Trucking companies that encourage drivers to rush and adhere to unrealistic schedules - ignoring safety risks - are the guilty parties behind these accidents.
Fatigue combined with other factors such as speeding to meet a deadline or driver inexperience, poor weather or road conditions, or vehicle defects increase the risk of a crash.
Hours of Service Rules Limit Driver Time for Safety
The FMCSA as part of the U.S. Department of Transportation has issued hours of service regulations to keep fatigued drivers off our roadways. These rules impose limits for when and how long you may drive and how often to have driving breaks to ensure that drivers stay alert and awake while working.
The FMCSA describes the rules for drivers of commercial motor vehicles in the Interstate Truck Driver's Guide to Hours of Service. The rules are complex and include exceptions for situations such as unexpected bad weather, traffic congestion and certain industries such as emergency, agricultural and construction work
Note that some states, including Florida, impose their own hours of service rules.
Truck Companies and Drivers may Face Serious Penalties for Violating Hours of Service Regulations
For violations of the hours of service rules, penalties can include:
Driver shut down at the roadside until enough off-duty time has been accumulated.
Fines assessed by state and local enforcement.
The carrier's and/or driver's compliance scores may be affected, resulting in penalties.
FMCSA civil penalties on the driver and/or carrier up to $11,000 per violation.
Downgrade of the carrier's safety rating when a pattern is shown.
Federal criminal penalties against those carriers who willfully and knowingly require or allow hours of service violations.
Hours of service violations can cause devastating accidents with potentially catastrophic damage to other drivers and passengers. Drivers and trucking companies may be proved negligent when creating unsafe conditions putting lives and property at risk.
We can Help if You Have Been Injured in a Truck Accident
If you or a family member has been injured in a truck accident or has been injured by any other type of personal injury, please contact the Law Offices of Diana Santa Maria, P.A. immediately. Our experienced attorneys will fight for the compensation you deserve. Please call us for a free consultation. Attorney Diana Santa Maria, personal injury attorney in Fort Lauderdale, will fight to secure justice for you and your family. You can reach us at (954) 434-1077 or contact us via the website.