Takata Airbag Recall Update Including Death During Repair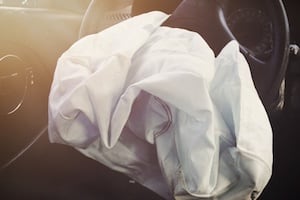 Defective Takata airbags are still causing fatalities - even when they are not on the road. An individual died in Miami last year while trying to repair his 2001 Honda Accord with a hammer. With the ignition switch "on," the airbag inflater was activated during the repair. The bag ruptured and the individual died the next day.
This is the 12th death in the U.S. and the 17th worldwide in the long saga of these defective airbag inflaters. Honda confirmed that it had sent 12 notices over more than 6 years to the owners of the vehicle involved in the most recent Miami death, but the recall repair had not yet been completed on this vehicle.
Takata Airbag Recalls Began in 2008
Honda was the first manufacturer to recall its vehicles in 2008 when the Takata airbag problems first arose. Currently, the National Highway Traffic Safety Administration (NHTSA) is tracking recalls of nearly 70 million airbags in 42 million vehicles of various makes and models, the largest automobile industry recall in U.S. history.
The Takata airbags are particularly susceptible to temperature fluctuations and humid environments like that in Florida. Over time, the propellant that deploys the airbag can degrade. When the airbags are deployed, a rupture can launch sharp metal fragments into car occupants.
This past January, Takata was fined $1 billion in a charge of wire fraud related to how the firm handled the airbag defects. Last month the Japanese company filed for bankruptcy protection and disclosed an agreement to sell its assets to a competitor.
Airbag Recall Continues to Expand
Recently, Takata added 2.7 million more airbags to the recall list after testing revealed a new hazard. Some airbag inflaters that rely on calcium sulfate to keep them dry can rupture when deployed because the inflater combusts in an "over-aggressive" manner.
These most recent recalled airbags - all on the driver's side - are installed in Ford, Mazda and Nissan vehicles. Takata continues to test later generations of inflaters, which may potentially add to the number of recalled vehicles.
So far, 17 million airbags have been replaced in the U.S. The replacement rate is slow due to the limited availability of new parts.
If you have been notified of a recall on your vehicle because of a potential airbag problem, be sure to contact your dealer and bring the vehicle in as soon as possible for the repair. You can find the complete recall list at this NHTSA website.
We Can Help if You Have Been Harmed by a Defective Product
If you or a family member has been injured or harmed by a defective product such as a vehicle airbag or by any other type of personal injury, please contact the Law Offices of Diana Santa Maria, P.A. immediately. Our experienced attorneys will fight for the compensation you deserve. Please call us for a free consultation. Attorney Diana Santa Maria, personal injury attorney in Fort Lauderdale, will fight to secure justice for you and your family. You can reach us at (954) 434-1077 or contact us via the website.