Study Links Traumatic Brain Injuries to Higher Risk of Dementia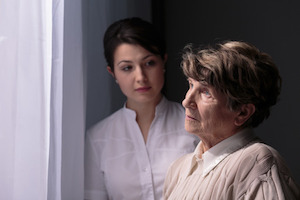 A recent study found that individuals who have experienced traumatic brain injuries, or TBIs, were more likely to develop dementia, including Alzheimer's disease.
A TBI can occur when there is a blow, bump or jolt to the head. These injuries are very different from other trauma where a specific body part has been harmed but mental abilities and personality remain unaffected. Instead, a TBI damages the brain and can affect all aspects of our lives.
The most common causes of TBIs are car accidents, firearms and falls including slip and falls. The elderly and young adults are at the highest risk of a brain injury.
Even a Mild TBI Increases the Risk of Dementia
The study showed that a single, severe TBI increases the risk of developing dementia by 35%. A mild TBI, including concussions, raises the risk of dementia by 17%.
Researchers found that there is a clear link between the risk of dementia and the number of traumatic brain injuries. In other words, the greater the number of TBIs that an individual sustains, the higher the risk of dementia.
Another interesting finding from this study is that when a person experiences a TBI, it also affects their risk of developing dementia. An individual who suffers a brain injury in their 20s is 60% more likely to develop some form of dementia as early as their 50s. This conclusion is particularly concerning as many young people experience TBIs in sports activities and vehicle and bicycle accidents.
Researchers hope that these study results will prompt individuals with TBI histories to be more proactive in controlling other dementia risk factors including managing diabetes, increasing exercise, preventing obesity and limiting tobacco and alcohol use.
Brain Injuries can Have Devastating Effects on Victims and Their Families
A TBI may be "mild," with a brief period of unconsciousness or mental status change, to "severe" including an extended period of amnesia or unconsciousness after the injury.
Brain injuries can cause many different functional short or long-term changes that affect:
Thinking - reasoning and memory
Language - communication and understanding
Emotion - personality changes, anxiety and depression
Sensation - balance and vision
Traumatic brain injuries can increase the risk of dementia, as the abovementioned study demonstrated, as well as Parkinson's disease and other brain disorders. TBIs may also cause epilepsy.
In addition to the physical and emotional costs of a TBI, a victim will incur overwhelming expenses for medical care, physical therapy, rehabilitation services, living support and home and vehicle modifications. A person with a TBI may be unable to work and may experience considerable levels of pain and suffering.
We Can Help if You Have Suffered a Traumatic Brain Injury
If you or a family member has experienced a TBI or has been harmed in a car accident, slip and fall or any other type of personal injury, please contact the Law Offices of Diana Santa Maria, P.A. immediately. Our experienced attorneys will fight for the compensation you deserve. Please call us for a free consultation. Attorney Diana Santa Maria, personal injury attorney in Fort Lauderdale, will fight to secure justice for you and your family. You can reach us at (954) 434-1077 or contact us via the website.