Students Injured in Recent Semi Truck vs. School Bus Accident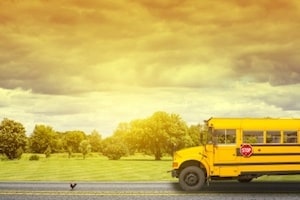 High school students headed to Hernando High School in Brooksville, Florida were lucky to escape with minor injuries in a recent accident.
A semi-truck allegedly ran a red light and crashed into their bus. The bus's rear axle was ripped off and the bus then overturned on the busy road. 6 out of the 18 students onboard were treated for minor injuries; both drivers were unhurt. The truck driver was cited for failure to obey a traffic signal.
Tractor Trailer Accidents can Carry Serious Injuries and Significant Property Damage
The outcome of this accident could have been a lot worse. A loaded tractor-trailer can weigh as much as 80,000 pounds, more than 3 times as much as a typical school bus.
Approximately every 16 minutes in the U.S., a person is injured or killed in an accident with a semi-truck.
Truck accidents are potentially much more dangerous than accidents with other smaller vehicles because of their larger size and weight, as well as potentially hazardous cargo. Also, because of physics, tractor trailers are limited in their maneuverability and their braking and acceleration times.
Determining Fault in a School Bus Accident
In the Hernando High School case, the truck driver may be at fault in the accident as he has been charged with running a red light.
However, other school bus accidents are not so clear-cut. Multiple parties may be to blame, and seeking compensation can be complicated.
The school district and/or a private transportation company operating the buses may be held negligible in a bus accident. In some cases, even a bus part manufacturer may be held responsible for the accident.
Let Us Know if You Have Been Injured in a Truck or Bus Accident
If you or a family member has experienced a TBI or has been harmed in a truck accident, bus accident, car accident, slip and fall or any other type of personal injury, please contact the Law Offices of Diana Santa Maria, P.A. immediately. Our experienced attorneys will fight for the compensation you deserve. Please call us for a free consultation. Attorney Diana Santa Maria, personal injury attorney in Fort Lauderdale, will fight to secure justice for you and your family. You can reach us at (954) 434-1077 or contact us via the website.