School Bus Accidents: Causes and Prevention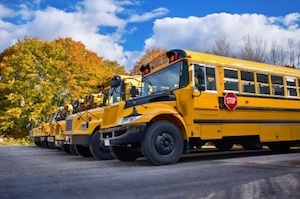 School has just started and Florida has already faced its first serious school bus accident.
The Orange County accident left 7 children injured, two of whom required hospitalization. Investigating police believe that the bus and a pick-up truck approached stop signs at the same time and then entered the intersection simultaneously. Although it is still unclear which driver was at fault, the driver of the pick-up truck was ticketed for driving on a suspended license and without insurance.
Common Causes of School Bus Accidents
Florida averages almost 500 school bus accidents each year (Florida DOT). The most common causes of school bus accidents are:
Driver error. Drivers must take all necessary safety precautions and acquire the skills necessary to drive large buses, especially with loud distractions.
Weather conditions. Driving a school bus in wet or windy conditions can be difficult. Quick stops and turns in these large vehicles are challenging.
Blind spots. Because of their larger size, bus blind spots are larger than those on cars. An accident can occur if other drivers are not aware of the blind spots.
Turning left. A large bus making a left turn can cross into a lane with oncoming traffic. Other drivers must be vigilant to prevent accidents.
Bus company negligence. Cutting corners in the hiring process can result in inexperienced drivers. Inadequate or improper bus maintenance can cause preventable accidents.
Drivers, share the road with school buses for safety. Slow down for buses and for children at bus stops. Anticipate frequent stops and never pass a bus when it is loading or discharging children. Obey the yellow or red flashing lights and the stop arm and stay alert to unpredictable children.
Talk to Your Children about School Bus Safety
Safety starts at home! Set aside some quiet time to discuss school bus safety with your child:
Don't roughhouse while waiting for the bus and stay well away from the road.
Wait until the bus has stopped completely, and then use the handrail to climb on.
Always wear your seat belt (if available) and stay seated.
Don't distract the driver with shouting and loud noises.
Never put your head, hands or arms out of the window.
Exit the bus only when it has completely stopped.
If you have to cross the street in front of the bus, wait until the driver sees you and signals to you that it is safe to cross. Check left, right and then left again before crossing.
Read more about school bus safety from the National Safety Council.
Let Us Know if You Have Been Injured in a Bus Accident
If you or a family member has been harmed by a truck accident, bus accident, car accident, slip and fall or any other type of personal injury, please contact the Law Offices of Diana Santa Maria, P.A. immediately. Our experienced attorneys will fight for the compensation you deserve. Please call us for a free consultation. Attorney Diana Santa Maria, personal injury attorney in Fort Lauderdale, will fight to secure justice for you and your family. You can reach us at (954) 434-1077 or contact us via the website.