Santa Maria Law - Personal Injury - COVID-19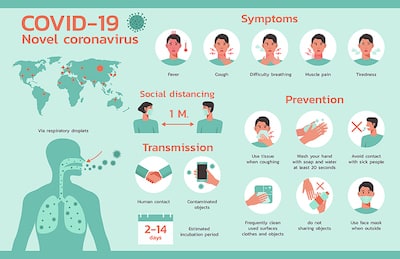 How Our Law Firm is Responding to the COVID 19 (Coronavirus) PandemicA Message From Founder and Managing Attorney, Diana Santa Maria
In the wake of the COVID-19 (coronavirus) pandemic we, at the Law offices of Diana Santa Maria, P.A. are monitoring and adhering to state and federal officials' urging of social distancing to prevent further spread of the virus. To comply with necessary precautions while still running our firm operations, we have set up office systems allowing us to continue business on behalf of clients through technology via remote access and daily monitoring of essential functions with reduced on site staff.
Rest assured that we are taking all available steps to remain accessible to our clients as we continue to act in accordance with their best interests during this difficult time. We continue to diligently work on our clients' cases using remote technology and are accessible, answering emails and phone calls with your concerns and questions. Our phones and emails are monitored 24/7.
As a member of the Florida Bar's Board of Governors and other voluntary bar organizations such as ABOTA (American Board of Trial Advocates), Diana with other Bar leaders and colleagues are working closely with the courts to ensure the continued orderly administration of justice to prevent delays on cases, while still adhering to all public safety precautions.
Please see below for answers to some frequently asked questions, and contact us any time at officeadmin@santamarialaw.net or (800) 668-2156 for assistance with your legal matter.
Is Your Office Open During Normal Business Hours?
Our office has a minimal staff from 8:30 to 5:30 p.m. Mon- Friday, however, in adherence to enacted social distancing guidelines, we are conducting all business matters by phone, email and/or videoconferencing.
When and How can I Contact You?
You may contact us by phone or email at the email address and phone above.
What Video Chat Platforms Do You Offer for Clients?
We are using Zoom for our video chat(s), mediations and depositions.
Are You Accepting New Clients?
Yes. Under the guidelines outlined above.
How can I get Updates Regarding the Status of My Case or Legal Matter?
You may contact us by phone or email at the email address and phone above.
Are Courts of Law Still Open in My Area?
The courts are staffed but not open to the public. The courts are setting up video conferencing capabilities so hearings and other matters may continue. Our firm is closely monitoring all developments so we may keep all cases moving forward with minimal delays.
Will My Court Date be Rescheduled?
Many scheduled trials and hearings will be rescheduled. For the circumstances involving your case, please contact our office.
Will Scheduled Depositions, Mediation, Arbitration, or Settlement Negotiations Occur as Planned?
While there will be delays, many scheduled depositions, mediations and settlement negotiations may continue as planned by implementing video conferencing in lieu of personal appearances. For specific matters involving your case, please contact our office.
Again, please contact us with questions at any time and see the following links below for CDC, state, and/or local updates regarding public health orders, court operations, and other information.
Below are helpful links for COVID-19 related matters:
In South FloridaOutside South Florida
The effects of this COVID-19 virus may continue to cause havoc in many facets of our lives for quite a while. The Law Firm of Diana Santa Maria. P.A. is available to assist you. We offer a free consultation with any of your concerns regarding questions of the law.
Diana Santa Maria, with our attorneys and staff will remain available to advise you during these difficult times. If you or a loved one feel you are a victim of negligence please call or contact us through email. Our phones are monitored 24/7.
The safety of everyone in the community is a priority and we wish our friends, clients, loved ones, and any persons directly involved with the virus to be well, safe, and closely monitored.
God Bless and Stay Safe.
Diana Santa Maria