Our Top 10 Steps to Take if You are in a Truck Accident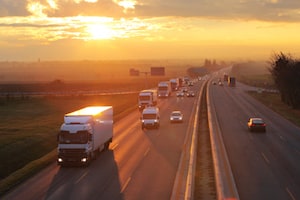 If you have been involved in an accident with a truck, there are certain actions that you should take immediately for your own health and safety and to preserve information for any potential lawsuit.
If you are injured, you must have proof of your injuries and the medical care you received. It's essential to collect information and keep it organized. If your injuries are severe, focus on your own recovery and ask a family member, friend or attorney to collect the information for you.
Here are our top 10 steps to take when you are involved in a truck accident:
Call 911 for help. Always call the authorities for medical treatment so that the police will complete an accident report.
Get medical treatment. See a doctor right away for your injuries and keep a record of all medical treatments.
Get the other driver's information. Collect name, address, phone number, insurance and vehicle information and truck driver employer information.
Collect witness information including contact numbers.
Take photos. Get photos of the accident scene, all vehicle damage and injuries. Be sure to capture streetlights, signs and traffic signals.
Record accident and scene information. Write down time of day, weather and road conditions as well as your recollection of the chain of events.
Organize your documents. Keep paper and digital copies of all photos, personal information, insurance and other documents. Obtain copies of police reports.
Notify your insurance company. Get your claim going through your own insurer and start the process of making a claim against the truck driver's insurance.
Document your injuries. Track your injuries, medical treatments, medication and how your injuries affect your work and life.
Follow up with your doctor. Even if you received emergency medical treatment, see your own physician as soon as possible. Many neck, back and head injuries don't become noticeable until after a day or more. Follow through with all medical and therapy treatments to demonstrate that you are doing everything to become well.
Importantly, consult a lawyer experienced in truck accidents. We work with the injured victims of tractor trailer accidents all the time. We will fight for you and do what we can to help you get the right compensation for you and your family.
Do not discuss the accident with the truck driver, trucking company or their insurance company. Don't accept any settlement for the accident until you have consulted with us.
We Can Help if You Have Been Injured in a Truck Accident
If you or a family member has experienced an injury in a truck accident or any other vehicle accident, or has been injured by any other type of personal injury, please contact the Law Offices of Diana Santa Maria, P.A. immediately. Our experienced attorneys will fight for the compensation you deserve. Please call us for a free consultation. Attorney Diana Santa Maria, personal injury attorney in Fort Lauderdale, will fight to secure justice for you and your family. You can reach us at (954) 434-1077 or contact us via the website.