New Federal Logging Device Mandate may Reduce Truck Accidents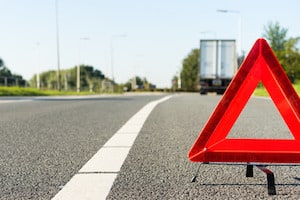 Driving while fatigued is a major problem in the commercial trucking industry. In a recent study, driver fatigue was a critical reason in 13% of large truck accidents (data from the Federal Motor Carrier Safety Administration FMCSA).
Truckers are under pressure to deliver their loads safely and on time. Road and weather conditions can hamper their efforts, causing them to fall behind their schedules. The FMCSA has established regulations that limit the length of time a driver can be on the road before taking required breaks. These rules are important in protecting other motorists from fatigued truck drivers.
In order to enforce the regulations, drivers are required to maintain a record of their journeys for each 24-hour period. The log includes the total miles and hours driven by day as well as whether the driver was on or off duty, driving and using a sleeper berth.
Transition to Required Electronic Logging Devices Begins December 2017
Unfortunately, some drivers complete inaccurate logs to force compliance with federal rest requirements. They are often pressured by their transportation company to meet unreasonable deadlines and will forgo much needed rest breaks. This behavior results in tragedies that may have been preventable.
To improve driver log accuracy and end the bogus manual logs, the federal government is requiring that all large trucks transition to an Electronic Logging Device, or ELD. The two-year phased-in compliance phase begins on December 18, 2017. After the two years, all drivers and carriers subject to the rule must use self-certified ELDs that are registered with the FMCSA.
How ELDs Will Help Improve Truck Safety
Requiring Electronic Logging Devices is an important safety improvement for all vehicles on the road.
The ELD is connected directly to the truck's engine and automatically records data like date, time, engine activation, vehicle locations and miles traveled. If the information is edited, an investigator will still have access to the pre-edit data and will know that the driver has tried to tamper with the device. But - importantly - drive time cannot be edited.
The goal of the ELD requirement is to force drivers to abide by federal rules that limit driving time and that mandate driver rest. Those who violate the rules - trucking companies and drivers too - face steep fines.
Reducing driver fatigue will make our roads safer and cut down on truck crashes caused by sleepy drivers.
We Can Help if You Have Been Injured in a Truck Accident
If you or a family member has been involved in a truck or car accident or any other type of personal injury, please contact the Law Offices of Diana Santa Maria, P.A. immediately. Our experienced attorneys will fight for the compensation you deserve. Please call us for a free consultation. Attorney Diana Santa Maria, personal injury attorney in Fort Lauderdale, will fight to secure justice for you and your family. You can reach us at (954) 434-1077 or contact us via the website.