Massive Pileup on I-10 Near Tallahassee Began with Jackknifed Tractor-Trailer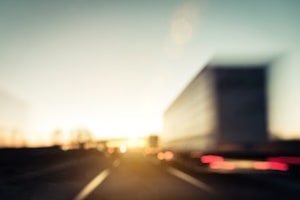 A tractor-trailer that came up behind an unexpectedly slow driver in torrential rain may have been the cause of a massive pileup on 1-10.
The recent truck accident occurred on the highway near the Monroe Street intersection. Based on their preliminary investigation, police believe that the tractor-trailer tried to stop to avoid hitting the slower car and swerved on the slippery roadway, causing the truck to jackknife. The resulting 45-vehicle pile-up, including 5 semi-trucks, injured 8 people including one in critical condition.
How do Trucks Jackknife?
Jackknifing is a dangerous situation when a tractor-trailer skids and the trailer swings out to one side. A truck will jackknife when its wheels lock up because of wet or slippery conditions. The tractor and its trailer then form an angle that resembles an open jackknife with its protective handle. If the jackknifing occurs when the truck is moving at high speed, a rollover may occur.
While jackknifing, the trailer can hit other cars while swinging out and may extend over more than one lane of traffic. Tractor-trailers are usually loaded with thousands of pounds of cargos, making them significantly larger and heavier than other vehicles involved in an accident. If the truck overturns, it may potentially spill its cargo with a serious risk of fire.
Truck Jackknife Accidents Often Cause Serious Injuries
In addition to fatalities, injuries resulting from a jackknifed tractor-trailer accident can be severe and can include:
Traumatic brain injuries (TBIs)
Concussion
Fractures
Burns
Back and spine injuries
Contusions
Internal injuries
A victim of a jackknife accident or any other truck crash may face significant medical hurdles and financial challenges. Ongoing expenses such as medical, rehabilitation, physical therapy, current and future lost wages, home and vehicle alterations and pain and suffering can put a significant financial burden on the victim and his family.
Can a Motorist Avoid a Jackknifed Tractor-Trailer?
Certainly many accidents are not avoidable, for example when the truck driver must respond to a sudden hazard. But driving prudently and keeping lots of space between your vehicle and the truck ahead can reduce your risk of being involved in this type of accident.
Here are a few more safety tips:
Drive appropriately considering the weather conditions
Minimize distractions like your cellphone, GPS, music and passengers
Keep your eyes on the road and your mind on the task of driving
Allow large vehicles such as semi-trucks plenty of room when passing them or when coming up behind them as they merge onto a highway
We can Help if You Have Been Injured in a Truck Accident
If you or a family member has been harmed by a truck accident, bus accident, car accident, slip and fall or any other type of personal injury, please contact the Law Offices of Diana Santa Maria, P.A. immediately. Our experienced attorneys will fight for the compensation you deserve. Please call us for a free consultation. Attorney Diana Santa Maria, personal injury attorney in Fort Lauderdale, will fight to secure justice for you and your family. You can reach us at (954) 434-1077 or contact us via the website.