Law Offices of Diana Santa Maria Announces Addition of New Associate Attorney, Brian M. Andino, to its Fort Lauderdale Office
For Immediate Release:
January 11, 2021, | The Law Offices of Diana Santa Maria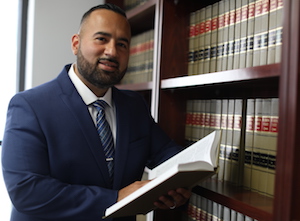 Fort Lauderdale, Fl. January 11, 2021 – The Law Offices of Diana Santa Maria is proud to announce Associate Attorney Brian M. Andino has joined the firm's Fort Lauderdale office.
Andino will focus on all areas of practice, the firm handles, including Personal Injury and Wrongful Death resulting from Premise defects, Trucking, and Auto crash cases, Negligent Security, among other areas.
Before joining the Law Office of Diana Santa Maria, Brian was an Assistant State Attorney in Fort Lauderdale, Florida. He brings with him years of experience representing victims of violent crimes including Sexual Abuse and Child Molestation, among others. He has tried countless jury and non-jury cases to verdict on behalf of the State of Florida.
Brian stated, " I want to continue to advocate for victims who have been wronged or injured due to another party's negligence or wrongdoing." This passion naturally led him to the Law Office of Diana Santa Maria, P.A. Attorney Santa Maria stated, " Brian's vast experience representing victims of crime will add another layer of expertise to our arsenal of talent, commitment, and skill representing persons injured due to the negligence or the wrongdoing of others, including Negligent Security and Personal Injury as well as Sexual Abuse. We are thrilled to have him join our team; he is a true powerhouse."
Attorney Andino earned his Bachelor of Science from Florida International University. He earned his Juris Doctor degree from the University of Miami School of Law, where he was a member of the Hispanic Law Students Association and the Cuban American Bar Association; he is bilingual. He was also selected to the University of Miami School of Law's Trial Team. On graduating, Andino was recognized for his pro bono work from its HOPE Public Interest Service Center. While in law school, Brian worked as a judicial law clerk for the Honorable Jacqueline Hogan-Scola, Attorney's Office in Miami-Dade, and Broward counties.
"With adding Brian to our team, we look forward to strengthening and expanding our multi-faceted personal injury practice with a stronger focus on representing crime victims while furthering our established areas of law and maintaining our mission of providing excellent and personalized representation for all our clients" said Santa Maria.
About the Law Offices of Diana Santa Maria
Founded over 30 years ago, the Law Offices of Diana Santa Maria has provided quality personal injury representation to persons from all walks of life and from all over the world for three decades. The firm's body of successful cases encompass roadway construction cases, high-profile cases against hospitals and healthcare organizations generating multiple million-dollar verdicts, premises and construction site cases, swimming pool drowning and near-drownings, auto and trucking crashes, negligent security, and all manner of cases where there have been injuries or death resulting from negligence and/or sub-standard safety practices triggering redress, restitution and correction for the safety of Florida citizens and the public at large.
Contact: officeadmin@santamarialaw.net