How to Spot a Used Car That has Been in a Flood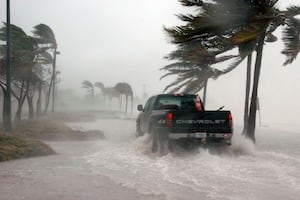 2017 was a devastating year in terms of hurricane damage. Irma hit Florida hard in September and took a tremendous toll in terms of fatalities and property damage.
It's estimated that between 200,000 and 400,000 cars were damaged by flooding in Florida alone (Fortune.com) and, based on past experience, about 50% of these will be cleaned up and resold to unwary drivers.
What Happens When a Newer Vehicle is Flooded?
First, the insurance company will probably write it off as a total loss, take ownership of the car and give the owner a check. The insurance company will then report the vehicle to searchable databases and relinquish the car to a salvage auction company.
When purchasing any used car, a buyer should obtain the car's Vehicle Identification Number (VIN) found on the title document and also on the dashboard. The history of the car's title can show if it has ever been deemed as beyond repairable or as salvage. Carfax maintains a flood car database as does the National Insurance Crime Bureau (NICB) VINcheck.
But these databases are not complete. For instance, the NICB database has information on only those cars covered by insurance companies that support this organization, amounting to about 90% of U.S. personal vehicle policies.
A federal law known as the Anti Car Theft Act of 1992 requires that title data be reported to a central system and that the car's history be verified before issuing a new title. Florida is one of 38 states at this time that provide data to the federal system and checks the database before issuing new titles.
Florida law requires that the Division of Highway Safety and Motor Vehicles (DHSMV) "brand" every vehicle that has been flooded, salvaged or junked. The title must show that the vehicle has been flood damaged. If the vehicle is titled in Florida, the DHSMV can confirm if it has been branded using the VIN or title number.
Look for Obvious Signs of Flooding in a Used Car
Always ask your mechanic to give a prospective buy a thorough inspection. Watch for:
New carpets in an older car.
Carpets that are musty or show signs of caked mud.
Mud or debris trapped in odd places like under the hood or in gaps in the trunk panel.
Visible water lines on the reflector or lens of the headlights.
Exposed rusty screws - unpainted metal in flooded cars will rust.
Rubber drain plugs that have been removed to drain floodwater.
We Can Help if You Have Been Injured in a Vehicle Accident
If you or a family member has been involved in a car accident or any other type of personal injury, please contact the Law Offices of Diana Santa Maria, P.A. immediately. Our experienced attorneys will fight for the compensation you deserve. Please call us for a free consultation. Attorney Diana Santa Maria, personal injury attorney in Fort Lauderdale, will fight to secure justice for you and your family. You can reach us at (954) 434-1077 or contact us via the website.