How Car vs. Truck Accidents are Different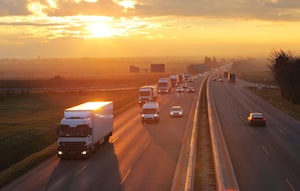 Being in a truck accident is not the same as other vehicle accidents.
For one thing, consider the potentially vast differences in size. Fully-loaded tractor trailers can weigh up to 80,000 pounds! The trailers can be 53-feet long, which is three times as long as the largest SUVs.
Truck accidents usually cause substantial damage to the smaller vehicle. But there are more differences in truck vs. car accidents than just comparative size:
Determining the Cause of a Truck Accident
It can be difficult to find the cause of a truck vs. car accident. Much of the responsibility for an accident falls on the driver, but the trucking company may also be partially or fully liable.
Equipment failure is often a contributor to trucking accidents. This, however, does not free the driver from liability, as the driver is responsible for conducting a pre-trip inspection of the truck to make sure that all equipment is functioning properly. But an equipment failure may involve the trucking company, which may have been negligent in seeing that the vehicle was appropriately maintained, or the truck or parts manufacturer.
Other parties that may be responsible for a truck accident include those who hold leases or subleases on the equipment - the trailer or the tractor, or both. Also shippers, loaders and brokers that are involved with the truck's cargo may be involved as to the securement of the load.
Truck Accident Injuries
Victims of truck accidents tend to have very serious injuries, which is understandable given the extreme differences in sizes in truck vs. car crashes. Drivers and passengers of the smaller vehicles can experience injuries that can render them partially or fully paralyzed.
Such traumatic harm may include:
Head and brain injuries that can be life-altering. A traumatic brain injury (TBI) can cause harm ranging from personality changes to paralysis to death.
Hand, foot, arm or leg amputations.
Burns that can result in painful and permanent disfigurement.
Neck and back injuries that can cause paralysis.
Of course, many truck accidents cause fatalities. A wrongful death where the victim has been killed by the negligence of others may require a claim on behalf of the victim's family.
Training and Licensing
Most states including Florida require a special Commercial Driver's License (CDL) in order to operate a semi-truck or commercial vehicle. Regulations may also call for specialized training in the specific vehicle as well as for the load that they are carrying.
If an accident occurs and the driver doesn't have the proper qualifications, the trucking company may be held liable for negligence in training as well as hiring.
We Can Help if You Have Been in a Truck Accident
If you or a family member has been injured in a truck accident, a car accident or slip and fall or any other type of personal injury, contact the Law Offices of Diana Santa Maria, P.A. immediately. Our experienced attorneys will fight for the compensation you deserve. Please call us for a free consultation. Attorney Diana Santa Maria, personal injury attorney in Fort Lauderdale, will fight to secure justice for you and your family. You can reach us at (954) 434-1077 or contact us via the website.