Honeymooner Killed on Cruise Zip-Lining Excursion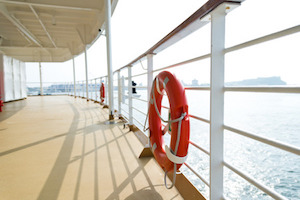 A tragic zip-lining accident in Roatan, Honduras left one Israeli tourist dead and another injured. The honeymooning couple was enjoying the zip-line course when the woman got stuck midway, and her husband collided with her in midair. Both were taken to the hospital where the man later died from his injuries, apparently from a brain hemorrhage.
The couple had recently departed from Fort Lauderdale for a 7-night cruise on Royal Caribbean's The Allure of the Seas. The cruise liner provides the zip-line experience as one of its ashore offerings and describes the Roatan tour as having 12 zip lines and 18 platforms. The longest cable stretches for 1,950 feet with the highest at 300 feet above the ground.
Royal Caribbean warns that pregnant women and guests with neck, back, heart or respiratory problems avoid the tour, and states that guests should consider their physical fitness abilities and medical history when deciding to sign up for the zip-lining.
Roatan Zip-Line Had History of Injuries
An article in the Washington Post reports that at least 2 individuals were involved in zip-line accidents in Roatan in the past 10 years, including one woman who died when the cable snapped, causing her to fall 65 feet.
Overall, injuries related to zip-lining are increasing as the popularity of this sport zooms skyward. 16,850 injuries were treated in U.S. emergency rooms in the 16-year period ending in 2012.
Common injuries include concussions or mild traumatic brain injuries (TBIs), fractures, sprains and strains.
Who is Responsible for Injuries Suffered During a Shore Excursion?
Cruise lines have a responsibility to warn passengers about the dangers in a port of call. If there is no warning, or if the warning is inadequate and you have suffered an injury, you may be able to hold the cruise line liable. The shore excursion company may also be responsible, whether or not you booked the tour through the cruise line or on your own.
Will the cruise waiver that you signed or the excursion ticket itself release the cruise line from liability? Each case must be assessed independently to determine who may be responsible for a personal injury or wrongful death suffered while on a cruise shore excursion.
Let Us Know if You Have Been Injured on a Cruise or Shore Excursion
If you or a family member has been harmed by a truck accident, bus accident, car accident, slip and fall or any other type of personal injury, please contact the Law Offices of Diana Santa Maria, P.A. immediately. Our experienced attorneys will fight for the compensation you deserve. Please call us for a free consultation. Attorney Diana Santa Maria, personal injury attorney in Fort Lauderdale, will fight to secure justice for you and your family. You can reach us at (954) 434-1077 or contact us via the website.