Get Ready Now: Hurricane Season Begins on June 1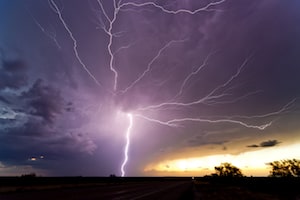 Fort Lauderdale narrowly missed a direct hit by Hurricane Matthew last year. Matthew turned further north and weakened so our state was only touched by the outer eyewall. This hurricane finally made landfall in South Carolina.
There was plenty of destruction caused by Hurricane Matthew with three Floridians killed and thousands left without power. Still, we were pretty lucky compared to the destruction that may have happened with a different storm track.
Will our luck continue in 2017? The long-term forecast is that the Atlantic season will be less active than last year and closer to our average, with 12 named storms expected.
Getting Ready for a Hurricane
The Atlantic hurricane season runs from June 1 through November 30. Are you and your family prepared for a hurricane emergency?
Here are a few essentials for hurricane preparedness:
Secure your home. Cover all windows with wood or shutters as tape will only prevent the glass from shattering everywhere. Strap or clip your roof to the home if possible. Reinforce garage doors. Bring in outdoor furniture, garbage cans, bird feeders and anything else not tied down.

Stay inside. Keep away from windows and doors and close and brace all inside doors.

Prepare an emergency supply kit NOW in the event of an evacuation or long-term power outage. Pack your kit in something easy to carry. Include extra cash, non-perishable food, water for 3 days, first-aid kit, flashlights with extra batteries, portable cellphone charger, battery-operated radio and all necessary medications.

Establish and communicate a family plan for an emergency.

Keep your gas tanks filled.

Keep your cellphone charged and limit its use if the power goes out.

Fill bathtubs and containers with water for flushing and washing.
Here's a trick to alert you as to whether your power was out for a long or short time if you have to evacuate your home. Place a cup of water in your freezer, then put a quarter on top of the ice and keep it in your freezer. If after a power outage the quarter has fallen to the bottom of the cup, even if the water has refrozen, you will know that your freezer food has defrosted and must be tossed.
You can find much more information including evacuation routes and help on protecting your home and property from the Florida Division of Emergency Management as well as the City of Fort Lauderdale.
We Can Help if You Have Been in an Accident
If you or a family member has been injured in a car accident or truck accident or any type of personal injury, please contact the Law Offices of Diana Santa Maria, P.A. immediately. Our experienced attorneys will fight for the compensation you deserve. Please call us for a free consultation. Attorney Diana Santa Maria, personal injury attorney in Fort Lauderdale, will fight to secure justice for you and your family. You can reach us at (954) 434-1077 or contact us via the website.