Falls in Nursing Homes - Are They Preventable?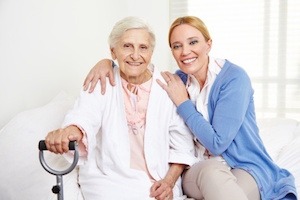 If you've entrusted the care of an elderly loved one to a nursing home or other elder care facility, you expect that they will be safe and under good care. Unfortunately, too many of these facilities have fallen below federal standards.
In fact, 1/3 of U.S. nursing homes have faced citations for violating these standards (NursingHomeAbuseGuide.org). These violations include abuse and neglect that had the potential to harm residents or actually injured the elderly through illness, unnecessary accidents or even death.
Falls Are the Most Frequent Accidents in Nursing Homes
The largest cause of preventable hospital emergency room visits made by nursing home residents is injury from a fall. A typical nursing home with 100 rooms reports about 100-200 falls each year - but these are only those falls that have actually been reported (NursingHomeAbuseCenter.org).
And an incredible 75% of nursing home residents fall each year! This is twice as high as the fall incidence of the elderly outside of nursing homes.
Typically, nursing home residents are older and in poor health. Many are frail and weak and also suffer from balance issues. A fall can often inflict serious damage including hip, skull, femur or pelvis fractures. Patients are also at risk of a severe head injury that can cause a concussion or brain bleed, sometimes resulting in death.
Preventing Nursing Home Accidents
An effective and well-run nursing home must take the proper steps to prevent the majority of resident falls. Staff members must be alert and focused at all times, especially with patients with dementia or physical disabilities. Appropriate walking aids and footwear must be provided. Environmental hazards such as spills, slippery floors, poor lighting and debris must be corrected. Bed height must be monitored and frequent checks of bed rails must be made for safety.
Take Action
Be observant to the physical, mental and emotional condition of your family member. Do you see cuts or bruises? Are they afraid to move around? Ask if they have fallen and check with the staff.
A sensor with a loud alarm can be used to monitor residents at risk of falling to alert staff when they try to get out of bed.
Remember - an injury related to a fall is a warning sign of nursing home neglect.
If you have any concerns about nursing home care that remain unaddressed by management, contact an Adult Protective Services agency. You can find your local office at the National Council on Aging (1-800-677-1116).
We Can Help with a Nursing Home Abuse or Neglect Problem If you or a family member has been injured by nursing home negligence or any type of personal injury, please contact the Law Offices of Diana Santa Maria, P.A. immediately. Our experienced attorneys have the right expertise to fight for the compensation you deserve. Please call us for a free consultation. Attorney Diana Santa Maria, personal injury attorney in Fort Lauderdale, will fight to secure justice for you and your family. You can reach us at (954) 434-1077 or contact us via the website.