Exploding E-Cigarette Kills Florida Man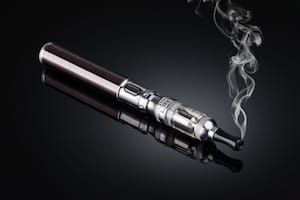 Many people switch to vaping, or inhaling water vapor through an electronic cigarette or personal vaporizer, with the belief that they are safer to use than smoking tobacco products. But the last thing they might expect is that the device may explode right in their hands, causing serious injury and even death.
This unfortunately happened recently in St. Petersburg, when a 38-year old man lit up a vape pen device which exploded in his hands, piercing his skull with shrapnel. The resulting fire killed the user as well as destroyed a room at his parent's home. The victim suffered traumatic brain injury and burns to over 80% of his body. The cause of death has been listed as a "projectile wound to the head" allegedly caused by the exploding e-cigarette device.
Vape Pens Provide Nicotine Without Some Smoking Hazards
Vape pens, also known as vapor cigarettes or e-cigarettes, are growing in popularity as individuals look for ways to get their nicotine fixes without the carcinogen dangers inherent in smoking products. E-cigarettes also present no danger from secondhand smoke.
Vape pens are battery-operated and when users draw on the device, the battery heats the liquid, which is transformed into an inhalable vapor. It's a big business with more than 450 brands and 7,700 flavors on the market. E-cigarettes do contain nicotine but not tobacco.
Although the St. Petersburg death is the first recorded fatality caused by a vape pen, there have been many other instances of vape pen explosions. E-cigarettes are currently not regulated by the U.S. Food and Drug Administration.
Victim Used an Unregulated E-Cigarette from the Philippines
The accident police report describes the vape pen as an unregulated e-cigarette manufactured by Smok-E Mountain, a vaping company located in the Philippines.
The report also states that the victim had modified his pen, although no further details are available at this time. A company spokesman said in a statement that the pens have no prior history of exploding and speculates that the explosion may have been caused by the atomizer (the part that is inserted into the mouth) or a faulty battery.
The official investigation into this accident may conclude that the vape pen was a defective product that caused the victim's wrongful death due to the negligence of others. The product may have failed to show the appropriate directions for use or warnings, or should not have been on the market at all. Our attorneys have extensive experience with products liability cases and will fight for justice and compensation for you or your loved one's injury or loss.
Let Us Know if You Have Been Injured by a Defective Product
If you or a family member has been harmed by a defective product or has been harmed in a truck accident, bus accident, car accident, slip and fall or any other type of personal injury, please contact the Law Offices of Diana Santa Maria, P.A. immediately. Our experienced attorneys will fight for the compensation you deserve. Please call us for a free consultation. Attorney Diana Santa Maria, personal injury attorney in Fort Lauderdale, will fight to secure justice for you and your family. You can reach us at (954) 434-1077 or contact us via the website.