Distracted Driving Truck Accident Results in Traumatic Brain Injury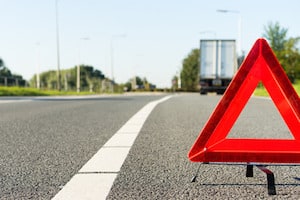 A trucking company has agreed to settle claims where a driver was using his cellphone before falling asleep behind the wheel and caused a collision with a smaller vehicle.
In the New Jersey truck accident, the truck driver veered his truck into oncoming traffic and struck the car head on. The suit alleged that the accident was caused by a perfect storm of issues surrounding the truck driver and his driving: He was driving drowsy; he was distracted by talking on his cellphone right before the crash; he had been taking medication for diabetes and high blood pressure.
The victim driving the smaller car suffered a traumatic brain injury as well as multiple fractures of the arm and foot. Her injuries are permanent and forced her to move in with family members for help with her daily living activities.
An accident reconstruction expert found that the driver of the smaller car had been operating the vehicle safely and that the truck driver's driving was the sole proximate cause of the accident.
Traumatic Brain Injuries Cause Serious and Life-Threatening Damage
A traumatic brain injury (TBI) results when an external force causes brain dysfunction. This force can be a violent jolt or blow to the head such as in a vehicle accident, or when an object penetrates the skull.
Mild TBI may cause only temporary brain cell dysfunction. A concussion is a type of mild TBI. More serious brain injuries can result in physical damage to the brain that can cause long-term complications like impaired thinking or memory, movement, sensation or emotional functioning, and even death.
Every day in the U.S., 153 individuals die from injuries that include TBI (data from the Centers for Disease Control and Prevention CDC). About 2.8 million emergency room visits, hospitalizations and deaths occur each year in the U.S.
Falls are the leading cause of TBI, accounting for 47% of all ER visits, hospitalizations and deaths. Slip and fall accidents may be caused by improper construction, slippery floors, defective steps, defective walkways and foreign substances on floors.
Motor vehicle crashes are the third overall leading cause of TBIs, with the second leading cause being struck by or against an object.
We Can Help With a Traumatic Brain Injury
If you or a family member has experienced a traumatic brain injury in a car accident or slip and fall, or has been injured by any other type of personal injury, please contact the Law Offices of Diana Santa Maria, P.A. immediately. Our experienced attorneys will fight for the compensation you deserve. Please call us for a free consultation. Attorney Diana Santa Maria, personal injury attorney in Fort Lauderdale, will fight to secure justice for you and your family. You can reach us at (954) 434-1077 or contact us via the website.