Diana Santa Maria Acknowledged with Best Lawyer Recognition for 2019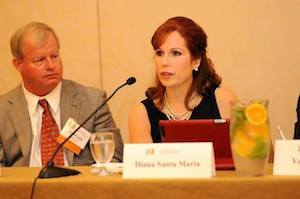 We are pleased to announce that our Managing and Founding Partner, Attorney Diana Santa Maria, has once again been recognized by her peers in acknowledgment of her achievements in her practice area of Personal Injury Litigation: Plaintiffs.
The honor of this recognition is accorded to only the top 5% of practicing attorneys in the U.S. Participation in the 2019 edition of The Best Lawyers in America© and is conferred based on a tried and tested peer review process that captures the recognition by leading lawyers in the same practice and geographical areas.
Attorney Santa Maria has been recognized in The Best Lawyers in America© since 2009.
Attorney Santa Maria: Securing Justice and Obtaining Full Compensation in Serious Injury Cases
For 27 years, Diana Santa Maria and our firm have served the people of Florida in all types of personal injury and wrongful death cases.
Diana has obtained multi-million dollar verdicts and settlements for victims of auto, train, bus, aviation and boating accidents as well as those injured or killed in construction sites, swimming venues, criminal assaults resulting from inadequate security and medical malpractice cases.
Attorney Santa Maria lives by the firm's motto of passionately pursuing justice as attorneys who understand, care and can help. In addition to her busy law practice, she gives back to the legal profession by serving as a representative for her circuit on the Florida Bar's Board of Governors. Diana is a recognized leader and Fellow of the Florida Justice Association, the state's trial bar organization.
Diana is a frequent lecturer in her field as well as a published author. She has served as adjunct professor at Nova Southeastern University Law School in Davie and sits on the law school's Board of Governors.
Let Us Know if You Have Experienced a Personal Injury
If you or a family member has been harmed by a truck accident, bus accident, car accident, slip and fall or any other type of personal injury, please contact the Law Offices of Diana Santa Maria, P.A. immediately. Our experienced attorneys will fight for the compensation you deserve. Please call us for a free consultation. Attorney Diana Santa Maria, personal injury attorney in Fort Lauderdale, will fight to secure justice for you and your family. You can reach us at (954) 434-1077 or contact us via the website.