Defective Tires can Cause Devastating Accidents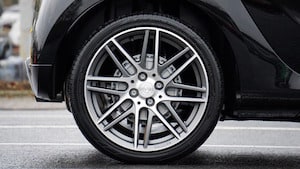 Most of us underestimate the importance of the tires on the vehicles we drive, but they are the only point of contact between our vehicle and the road and are critical to vehicle handling and braking.
Tire failure can cause your vehicle to go out of control and can result in a car accident with injuries or fatalities. The National Highway Traffic Safety Administration estimates that 2% of all vehicle crashes are caused by the vehicle itself, and of these, 35% are related to tire problems. Look at it this way - every year there are 15,000 auto accidents in the U.S. caused by problems with the vehicles' tires.
The results of a tire failure can be disastrous. Your car may roll over, swerve into oncoming traffic or go off the road. You and your passengers may be injured but also innocent pedestrians and occupants of other vehicles.
If the accident investigation reveals that your accident was caused or exacerbated by a defective tire, you may have a defective products case against the distributor, manufacturer or retail of the tire.
Tire Defects
Here are the most common defects in tires:
Tread separation
Manufacturing defects
Older tires that appear good but are worn
Inadequate puncture repair
Retread failure
Tires that are unsuitable for the vehicle
Steel belt and tread separation due to the difficulty of attaching steel to rubber
Tires manufactured without adequate separation prevention design features
Tires damaged while being mounted
These defects cause varying degrees of hazards. For example, a separation of rubber and metal can cause a blowout, which leads to a dangerous loss of control, especially at high speeds.
Preventing Accidents Relating to Tire Defects
Monitor the wear and status of your tires frequently to minimize your risk of an accident due to a tire defect. Look for:
Sidewall cuts or cracks.
Uneven tread wear caused by misalignment, damaged tires or improper inflation.
Overly worn tread. Watch the tread-wear indicator bars that alert you when the tread reaches the minimum of 1/16".
Tire blisters or bulges that signal weak spots and require immediate replacement.
Excess vibration may mean internal tire damage or a bent, unbalanced or misaligned tire or wheel.
Any of these signs are warnings that your tires need help. Act promptly to have your tires professionally inspected and fixed.
You can read more tire safety tips at ConsumerReports.org.
We Can Help if You Have Been Injured in an Accident
If you or a family member has been injured in a car accident or any type of personal injury, please contact the Law Offices of Diana Santa Maria, P.A. immediately. Our experienced attorneys will fight for the compensation you deserve. Please call us for a free consultation. Attorney Diana Santa Maria, personal injury attorney in Fort Lauderdale, will fight to secure justice for you and your family. You can reach us at (954) 434-1077 or contact us via the website.