Child Dies After Sustaining a Serious Head Injury in a Golf Cart Accident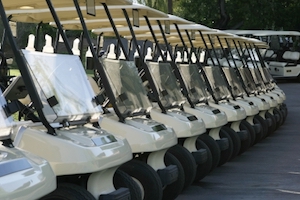 A tragic accident in Thomasville Georgia, near Tallahassee, claimed the life of an 8-year old boy. The boy ran into the path of a golf cart which hit him, knocking him to the ground and then running him over. The child suffered a severe head injury and later died at the hospital.
The girl driving the cart, in which there were 4 children, was only 11 years old. The children had been playing a game on the road in which a child would run around the golf cart while it was in motion. The driver said the brakes didn't work, but upon inspection the brakes were deemed to be operational. The accident is still being investigated and it is unclear if any charges will be filed because of the driver's age.
Golf Carts are not Toys and Children Must be Supervised
Under Florida law, a golf cart operator must be at least 14 years old. Therefore, the driver doesn't have to be a licensed driver, but of course must know the rules of the road and golf cart driving safety.
Designed for moving around golf courses, the use of golf carts has spread to retirement and residential communities. However, golf carts have few safety features like mirrors and signal lights and often don't have seatbelts.
Common causes of injury from golf carts include:
Falling from a moving golf cart
Golf cart overturning
Being hit or run over by a golf cart
Crashing into an object
Injury to an arm or leg that is sticking out of the cart
Typical injuries can include concussions, traumatic brain injuries, fractures, and shoulder, knee and neck injuries. Golf cart accidents can also result in a fatality as in the case of this young victim. The costs of these injuries with medical treatment, rehabilitation and possible vehicle and home modifications can be substantial, putting serious financial burden on the victim and family.
A golf cart accident can be as dangerous as an auto accident. Coach your children age 14 or over on safe golf cart fun:
Avoid sharp turns.
Break slowly especially when going downhill.
Stay below 15 mph.
If seat belts are available, use them.
Always keep legs and arms inside the golf cart.
Never let a child under age 16 drive without supervision.
We Can Help if You Have Been in an Accident
If you or a family member has been injured in a car accident or truck accident or any type of personal injury, please contact the Law Offices of Diana Santa Maria, P.A. immediately. Our experienced attorneys will fight for the compensation you deserve. Please call us for a free consultation. Attorney Diana Santa Maria, personal injury attorney in Fort Lauderdale, will fight to secure justice for you and your family. You can reach us at (954) 434-1077 or contact us via the website.