Can a Honolulu Law Reduce Injuries from Distracted Walking?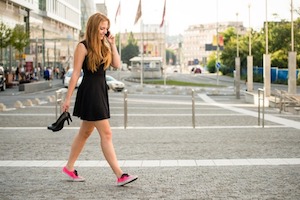 Honolulu has become the first major U.S. city that allows police to fine pedestrians for viewing their electronic devices while crossing the street.
The new law bans looking at mobile devices, but talking on a cellphone is allowed.
The impetus for the legislation is the growing number of pedestrian deaths and injuries. According to Honolulu's mayor Kirk Caldwell, the city has more pedestrians hit in crosswalks - particularly seniors - than almost any other city in the country. In effect, pedestrians now share the responsibility for their safety with motorists.
And there is reason for concern across the country. Pedestrian deaths spiked 11% in 2016 compared to the prior year and represent the highest number of fatalities since 1990. One of the most significant reasons for the increase could be the dramatic rise in smartphone use. (data from the Governors Highway Safety Association) Our own state is second in the nation only to Delaware in the rate of pedestrian deaths - 3.12 per 100,000 residents.
Those who text and walk are distracted both visually and cognitively. They are nearly four times as likely to engage in risky actions like jaywalking or not looking both ways when crossing the street. Texters also take more time to cross the street.
Engineering Solutions may Have Greater Impact
Critics of the law claim that other changes can have more impact than distracted walking penalties. Some cities in the U.S. and worldwide have devised creative methods to help protect the distracted pedestrian, including:
Installing signs with catchy warning slogans.
Specially-designed traffic lights.
Embedded LED-illuminated strips in the line of sight of people looking at their phones that coordinate with the traffic light's red or green.
Vehicle speed reductions can have positive impact on reducing the number of pedestrian accidents as well as the severity of injuries, as survival rates are higher in low-speed collisions.
At least 10 states have discussed similar legislation to deal with distracted pedestrians as well as bicyclists, but as of now none have been passed. Further legislation is pending in 2 states.
We Can Help if You Have Been Injured in a Pedestrian Accident
If you or a family member has been involved in a pedestrian accident, or has been harmed by a car accident or any other type of personal injury, please contact the Law Offices of Diana Santa Maria, P.A. immediately. Our experienced attorneys will fight for the compensation you deserve. Please call us for a free consultation. Attorney Diana Santa Maria, personal injury attorney in Fort Lauderdale, will fight to secure justice for you and your family. You can reach us at (954) 434-1077 or contact us via the website.