Broward County Pedestrian Accidents Increasing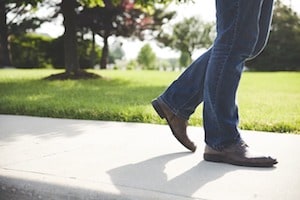 The number of pedestrian vs. vehicle accidents is not only increasing in our county, they are growing at an alarming rate.
According to the Florida Department of Transportation, there were 1,914 pedestrian and bicyclist traffic accidents in Broward County in 2015, including 73 fatalities. These numbers are large but the most alarming fact is the significant increase since 2010: Pedestrian and bicycle accidents rose by 21% (1,941 vs. 1,581) and the number of fatalities shot up by a huge 28% (73 vs. 57).
In fact, Fort Lauderdale ranks 5th among the largest Florida cities in terms of pedestrian and bike-related accidents with serious injuries and fatalities (Florida DOT 2017 Highway Safety Plan).
What's the problem?
Multiple Factors Responsible for Increase in Pedestrian Accidents
Our state's year-round weather is partly to blame, but there are other factors as well:
Vehicle speeding, which increases the risk of pedestrian fatality and serious injury.
Driving under the influence of alcohol or drugs - and pedestrians who have also been drinking.
Driver distractions including skyrocketing cellphone use for calls and texting.
Driver confusion with unfamiliar roads.
Aggressive driving.
Pedestrians who are distracted by using their electronic devices while walking.
More cars on the road due to a stronger economy and lower gas prices.
Most of these factors in pedestrian-related traffic accidents involve vehicle driver negligence or inattentiveness. Even if someone is crossing the street outside of a crosswalk or against the traffic light, drivers must be vigilant to avoid hitting the pedestrian and causing catastrophic injuries or death.
Driver Safety Tips for Sharing the Road
Safety is a shared responsibility - watch for pedestrians everywhere at all times.
Be extra alert for foot traffic in poor visibility conditions such as night hours and bad weather.
Be prepared to stop when you see a crosswalk and always yield to pedestrians in crosswalks.
Never pass vehicles stopped at a crosswalk - there may be pedestrians crossing that you can't see.
Follow the speed limit especially in areas where there are many people walking. Slow down in school zones.
Look carefully and constantly when backing up in case a pedestrian moves into your area.
Never drink and drive!
Read more pedestrian safety tips from the National Highway Traffic Safety Administration.
Let Us Know if You Have Been Injured in a Traffic Accident
If you or a family member has been harmed by a pedestrian accident or in a car accident or slip and fall, or has been injured by any other type of personal injury, please contact the Law Offices of Diana Santa Maria, P.A. immediately. Our experienced attorneys will fight for the compensation you deserve. Please call us for a free consultation. Attorney Diana Santa Maria, personal injury attorney in Fort Lauderdale, will fight to secure justice for you and your family. You can reach us at (954) 434-1077 or contact us via the website.