Broward County Fatal Truck Crash: Who is Responsible for Tire that Smashed Into Car?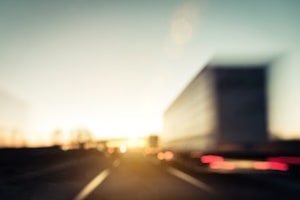 Imagine this scenario: You are driving northbound on I-95 in Broward County on a sunny evening when suddenly a truck's tire comes crashing into your windshield.
That is the tragedy that unfolded recently when a 25-year old man was killed in his Ford SUV when it was struck by a tire that flew off a box truck. The truck was actually traveling southbound on the highway and the tire came off its rim, bounced over the median wall and struck the car. The SUV's passenger, the man's 27-year old wife, survived with only minor injuries.
The uninjured truck driver has not been cited in the crash. An investigation into the car accident began right away but may take months, and autopsy results are pending.
The owner of the box truck's company declined to comment on the truck accident, only stating that he felt very badly about it. That statement may be inadequate if the trucking company is found negligent and responsible for the accident.
Road Debris Accidents are on the Rise
Accidents due to debris on the road are on the rise, according to AAA. These crashes kill 125 people in the U.S. each year, with 9,800 more injured. Many are caused by trucks and are often blamed on tire failure.
Common causes of truck tire failure include:
Defective tires. A tire may be defective because of its manufacturing process or its design. Some of these tires have been recalled by the U.S. Department of Transportation, yet they are still rolling down the highway. The tire is clearly dangerous if it has been the subject of a recall.
Improperly maintained tires. Trucking drivers and companies have an obligation to properly maintain their trucks, and that includes the tires too. Traveling on tires that are not safely maintained increases the risk of tire failure or explosion.
No pre-trip tire inspection. Drivers must thoroughly inspect their trucks before each trip. Without an inspection, an obvious tire defect may be missed. This defect can lead to tire failure and a resulting crash.
Who Can be Held Responsible for a Road Debris Truck Accident?
If a truck's tire blows out or, as in the Broward County accident, comes off the truck completely, a serious crash is often the result. Tire blowouts may be attributable to negligence on the part of:
The driver who is operating the truck and is responsible for daily tire inspections.
The trucking company that has a legal obligation to meet safety standards and to maintain their trucks.
The maintenance company contracted by the trucking company to oversee truck maintenance.
Sometimes a tire's design or a manufacturing defect is found to be responsible for an accident. The trucking company and the driver may have made all proper inspections, but if there is a fundamental flaw in a tire then the tire manufacturer and/or designer may be to blame. A claim based on a defective tire is called a products liability claim.
Let Us Know if You Have Been in a Truck Accident
If you or a family member has been harmed by a truck accident, bus accident, car accident, slip and fall or any other type of personal injury, please contact the Law Offices of Diana Santa Maria, P.A. immediately. Our experienced attorneys will fight for the compensation you deserve. Please call us for a free consultation. Attorney Diana Santa Maria, personal injury attorney in Fort Lauderdale, will fight to secure justice for you and your family. You can reach us at (954) 434-1077 or contact us via the website.