Brain Injury Lawsuit Underscores the Risk of Using Treadmills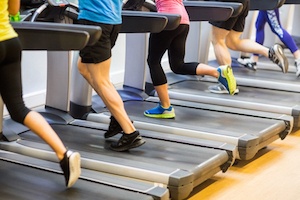 Keeping up your fitness routine is the best way to reduce stress during the busy holiday season.
But if you choose to workout at a gym, be very cautious when operating the machines. Each year thousands of Americans fall off of equipment, push themselves too much or drop heavy weights, resulting in injuries like fractures, torn muscles or strained backs.
In fact, every year 24,000 injuries from treadmill operation must be treated in emergency rooms (U.S. Consumer Product Safety Commission). Unlike other workout equipment that stops when the operator stops moving, a treadmill will keep going at the set speed and incline.
California Personal Injury Case Highlights Treadmill Safety
In 2011, a 60-year old woman fainted while using the treadmill in a Sacramento gym and fell backward. She allegedly struck her head on the metal box of a leg exercise machine and suffered several skull fractures. The victim was hospitalized for almost 4 months and underwent several surgeries to relieve skull pressure and remove blood clots.
Her premises liability lawsuit claims that the gym did not provide enough space behind the treadmill as specified by the manufacturer. Instead of a 6-foot deep area or "safety zone," there was less than 4 feet of room behind the machine. This is not an unusual situation as in many gyms the pieces of equipment are packed together tightly.
The Sacramento victim allegedly still suffers from memory lapses and recurring pain and dizziness, and is no longer able to drive because of the traumatic brain injury suffered in the accident.
Her lawsuit is proceeding to trial based on claims of gross negligence (inadequate treadmill safety zone). The victim is suing for damages for lost wages, future long term care, physical therapy and neuropsychology counseling.
Use Caution When Working Out on a Treadmill
Whether at a health club or at a home gym, use common sense when operating a treadmill, especially if you are a novice:
Proceed slowly and carefully.
Have someone there with you until you feel more comfortable with its operation.
Make sure that there is adequate clearance behind the machine - at least 6 feet.
Practice getting on the treadmill at a very slow speed.
Know how to stop the machine and don't get off until it's completely stopped.
Use the safety clip where available.
You can read more about treadmill safety in this Consumer Reports, Inc.
We Have Extensive Experience with Premises Liability Accidents of All Kinds
If you or a family member has been injured in a premises liability accident or any other type of personal injury, please contact the Law Offices of Diana Santa Maria, P.A. immediately. Our experienced attorneys have the right expertise to fight for the compensation you deserve. Please call us for a free consultation. Attorney Diana Santa Maria, personal injury attorney in Fort Lauderdale, will fight to secure justice for you and your family. You can reach us at (954) 434-1077 or contact us via the website.