Brain Injuries: A Tragic Result in Motorcycle Accidents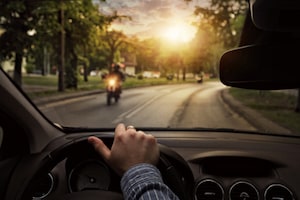 In 2015, the 606 Florida motorcyclists killed in accidents represented an incredible 30% increase over the prior year.
These sobering statistics were the result of an AAA study and appeared in a recent Orlando Sentinel article. The report also stated that 20% of vehicle fatalities in our state involve motorcycles, even though bikes account for only 3% of registered vehicles.
An AAA spokesperson cited not wearing a helmet as one of the most frequent causes of fatal motorcycle crashes, along with impaired driving and speeding. The National Highway Traffic Safety Administration (NHTSA) reports that 40% of motorcyclists killed in 2013-2015 crashes were not wearing helmets. Florida's helmet law applies only to motorcyclists age 21 and under.
Head Injuries are the Most Common Type in Motorcycle Crashes
Motorcycle riders and passengers are virtually unprotected in any type of accident. The most common injury in these crashes is a head injury.
A head injury can cause extensive damage to the brain. Traumatic brain injuries (TBIs) can range from mild, as for example a concussion, to those that are more severe. Any accident involving the head must be closely monitored.
A TBI can damage the brain when it is forced to move violently and strikes against the inside of the skull. The resulting brain damage can lead to permanent physical, emotional, intellectual and social disabilities including:
Paralysis
Recurring seizures
Loss of coordination
Loss of motor skills
Reduced intellectual and cognitive abilities
Memory loss
Concentration problems
Depression and anxiety
Medical and other costs for short and long-term treatment of TBIs can be staggering. The accident victim may require life-long medical and daily care as well as home and vehicle modifications.
You can read more about TBIs in our earlier blog.
Can Motorcycle Accident Head Injuries be Prevented?
Although not all head injuries can be prevented, wearing a helmet can reduce your risk of a serious TBI in a motorcycle crash. NHTSA data shows that helmets are about 37% effective in preventing motorcycle deaths and 67% effective in preventing brain injuries!
In Florida, you have the freedom to choose whether or not to wear a helmet, but remember that you are on only 2 wheels without the protection of a car around you.
We Can Help if You Have Been Injured in a Motorcycle Accident
If you or a family member has been injured in a motorcycle accident or any type of personal injury, please contact the Law Offices of Diana Santa Maria, P.A. immediately. Our experienced attorneys will fight for the compensation you deserve. Please call us for a free consultation. Attorney Diana Santa Maria, personal injury attorney in Fort Lauderdale, will fight to secure justice for you and your family. You can reach us at (954) 434-1077 or contact us via the website.