Attorney Santa Maria's Career Celebrated in Miami Law School Publication
"Persistence prevails when all else fails."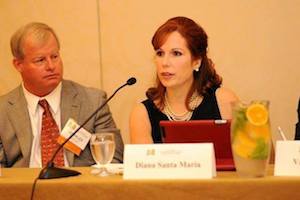 It's understandable why this is one of Diana Santa Maria's favorite quotes. Santa Maria, a personal injury attorney and head of The Law Offices of Diana Santa Maria, P.A., worked hard and persisted to create her own law firm while raising her young family.
Persistence is just one facet of this successful Fort Lauderdale personal injury lawyer that was shared in an article published by the University of Miami School of Law. Santa Maria describes her experience in the Miami Law School as a "blessing" in her life.
After finishing law school, Attorney Santa Maria joined the prestigious law office of Sheldon J. Schlesinger, P.A., a personal injury, medical malpractice and wrongful death firm. She credits her experience with Attorney Schlesinger as the inspiration for her passion for the trial work that she practices today.
Creating Her Own Law Firm
With a growing family, Santa Maria wanted to pursue her passion of trial law but also yearned for better work-life balance with more flexibility. She started her own law firm - in an extra bedroom in her home - that grew into a full-service, personal injury law firm that handles vehicle accidents, premises liability, medical malpractice, products liability and many other types of cases.
Santa Maria enjoys this area of the law because she fights for justice for those who have been injured or who have suffered a loss. It's important for her to get to know her clients on a personal level in order to appreciate their loss. Santa Maria speaks for those who have been injured and works for justice on their behalf.
Giving Back to the Legal Profession
Attorney Santa Maria believes in giving back to the legal profession that she values and respects. An award-winning lawyer who has been listed among the Best Lawyers in America for the past 10 years, she serves on the Florida Bar's Board of Governors for the 17thCircuit and is a Fellow with the Florida Justice Association. Santa Maria lectures on topics in her field and is writing a book based on her experiences in the legal profession.
Recognizing the diversity of Southern Florida and observing a lack of multi-cultural mediators, Santa Maria founded a mediation company called Bilingual Mediators. This endeavor provides mediators who are bilingual in many different languages to help facilitate the resolution of cases.
From a temporary office in a spare bedroom to a full-service personal injury firm that regularly generates seven-figure settlements, Attorney Diana Santa Maria has persisted to create an award-winning law firm with a personal touch.
Let Us Know if You Have Experienced a Personal Injury
If you or a family member has been hurt on the job or has been harmed in a truck accident, bus accident, car accident, slip and fall or any other type of personal injury, please contact the Law Offices of Diana Santa Maria, P.A. immediately. Our experienced attorneys will fight for the compensation you deserve. Please call us for a free consultation. Attorney Diana Santa Maria, personal injury attorney in Fort Lauderdale, will fight to secure justice for you and your family. You can reach us at (954) 434-1077 or contact us via the website.